Taking Pictures
*
For 35mm cameras ;
Open your film and load your camera after walking around the location for about 20 minutes first.
*
For 35mm cameras ;
Use at least 400 speed 35 mm film. 400 and 800 speeds work the best. Black and White film also works well.
*
For 35mm cameras ;
If you are an experienced photographer, you may want to try infrared film which also has had excellent results in the past.
* Make sure you note any other lights in the area so when you view your developed pictures you will not think a street light is an orb.
* Make sure you clean your camera's lens regularly.
* no smoking at the location, this can appear like mist on the photos so you don't want to contaminate your evidence.
* Watch for dust or dirt being stirred up in the area you are photographing. They can give false positive pictures.
* All long hair should be tied back or under a hat, again this is to eliminate any false positive pictures and to give the skeptics less ammunition.
* Remove or tie up any camera straps so you don't take a picture of that, it looks like a vortex when photographed.
* Don't bother with your cameras viewfinder. Hold the camera out in front of you and aim at the area you want to take a picture of. Many newer digital cameras do not even come with view finders. This also helps in cold weather by keeping your camera away from your breath.
* Watch for reflective surfaces and make notes of them. The flash reflected off shiny surfaces such as windows, polished tombstones, etc. can look light an orb or other anomaly. Make note of street lights and any other light source that may appear on the film.
* Let fellow investigators know when you are taking a photo so that you don't get double flashes and the night scope operators can look away. If you think you have a double flash photo or any other false positive, log the picture number so you can exclude that photo from the batch when they are developed. Night scope operators can get eye damage if they are looking at a flash through the scope so this is important.
* In cold weather be conscious of your breath so you don't photograph that, it'll look like ectoplasm mist. If you think you may have, log that picture number and discard it when you develop the pictures.
* Many people like to ask the spirit if they can take their picture , it can't hurt.
* Take pictures anywhere and everywhere. If you feel some thing or someone else does, take a picture. Did you think you saw something, take a picture. Take photos whenever you get a positive readings on any piece of equipment.
* Sometimes you will see an
orb
, mist or sparkles in your flash or others flashes, take more pictures right there, you may be near a spirit.
* You may only get about 1- 2 pictures for every 50 you take, that's about the average, so don't get discouraged. I've been at sites where I didn't get any and others where 30% of the ones we took were positive.
* Don't pay for fancy developing , you can get them developed anywhere. Just let them developers know to process and print every photo. I use the local discount stores photo service.
---
Audio and Video Recording
* You can set up stationary recorders and just let them run or you can walk around with them. During audio recording, ask questions whether general ones or one specific to a certain spirit. You can find a few ideas of question on or near the gravestones (i.e. how did you die, ask who left flowers, etc.) * Make sure you view or listen to the whole tape. EVPs are usually not heard at the time of recording but are heard only after the tape is reviewed.

* Review notes where you should have recorded any normal sounds as well as unexplained ones (dogs barking, cars, etc.) This way you can tell what a sound is that wasn't heard by you at the time but is now on the tape.



---
9 White Led Flashlight
Powerful 9 White LED flashlight. It's always a good idea to have a red light flashlight and a white light one in case of emergencies.

---
DVR Security Camera Set
Swann Pro Security Dvr 8ch monitoring system with 4 day and night cameras allows us to connect it to the internet and monitor it from our phones and and home computers beautiful camera set.
---
EMF Meter
An EMF meter is an instrument that reads the fluctuation in electromagnetic fields. You should always take preliminary EMF readings at various places throughout the site. The locations of power lines, appliances and other sources of electromagnetic fields are also noted. Most normal readings are in the range of 9.0 - 30.0 on the EMF meter. These are typical EMF readings in a home. Anything that registers in the 2.0 to the 7.0 ranges and cannot be traced to a source is attributed to spirit activity. An example of a source would be a computer monitor. The closer you get to a natural source the higher the reading. A natural source should always appear in the same place and will not disappear. You should discard these readings
---
Camcorder
Used for documenting and recording evidence.
---
Laser Grid and Stand
this high powered laser emits a grid of green dots useful for detecting shadows or general visual disturbances during an investigation. Set it in front of a running camera to catch potential evidence
---
Non-Contact Infrared Thermometer with Laser
This is used for fluctuations in surface temperatures often caused by paranormal activity

---
Spirit Box SB7
The B-PSB7 Spirit Box is a great compact tool for attempting communication with paranormal entities. It uses radio frequency sweeps to generate white noise which theories suggest give some entities the energy they need to be heard. When this occurs you will sometimes hear voices or sounds coming through the static in an attempt to communicate.

While this unit does have FM and AM sweep modes, the power has been specifically focused on the FM side for greater FM amplification. Because of this, some refer to this model as 'AM Detuned'. This provides more white noise energy through FM. By focusing this power in that direction, the AM side is now clear from white noise providing greater clarity while sweeping
---
Powered by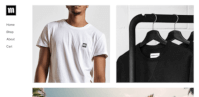 Create your own unique website with customizable templates.